Course Authors and Instructors: Pavel Tselischev & Sylvia Chardonnay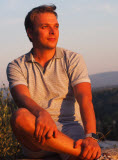 Pavel Tselischev is a professional trader with over 13 years of experience in trading stocks, options and futures in different markets.

Pavel is incredibly knowledgeable about algorithmic trading and TSLab. He started using TSLab about 4 years ago and since then it has become his passion and his bread-and-butter. Pavel runs several portfolios of fully automated strategies on Chicago Mercantile Exchange (CME) and Futures & Options of RTS (FORTS) on Moscow Exchange. Pavel is an author and a teacher of an algo trading course in a Trading Academy in Russia.
Not only is Pavel a successful algorithmic trader, but he is also a dedicated contributor to the Russian speaking trading community. His live workshops, webinars and blog posts with practical tips are helping other traders succeed in algo trading with TSLab.
In this course he is delighted to share his knowledge and experience with the English speaking community. His teaching style engages students in the learning process, increases their focus and motivates them to succeed. He breaks down complex and technical ideas into smaller, manageable parts,so Anyone Can Understand Them.
Pavel is a yachtsman and likes travelling around the world. As a captain, he will make sure that your journey through this course is a Great Sailing Tour!
---

Sylvia Chardonnay is an experienced stock trader with 5 + years' experience. Her focus is short term US equities trading and algorithmic trading. Sylvia runs a portfolio of more than 20 robots in TSLab, trading on NYSE and NASDAQ.
Sylvia has a master's degree in business administration (MBA) and held various managerial positions during her work life in the retail industry.
Several years ago Sylvia turned her midlife crisis into an opportunity to learn algorithmic trading. She studied Pavel's course and it changed her life for ever! After that she left her daytime job to pursue her passion in trading. She also taught in the Trading Academy in Russia.
Sylvia will guide you through this course to ensure you have the best learning experience.